« back to Movies
Ben-Hur (1959)
Release Date: Nov. 18, 1959
Genres: Action/Adventure, Drama, Romance
Cast: Charlton Heston, Jack Hawkins, Haya Harareet, Stephen Boyd, Hugh Griffith, Martha Scott, Cathy O'Donnell, Sam Jaffe, Finlay Currie, Frank Thring
Directors: William Wyler
Distributor: MGM
When rich Jewish prince Judah Ben-Hur is framed for a crime and sold into slavery, he escapes and comes back for revenge in this Academy Award-winning Biblical epic. With Jack Hawkins, Stephen Boyd, a cast of thousands and the greatest chariot race ever put on film.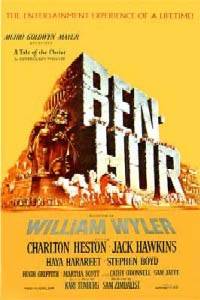 Show Times / Buy Tickets
There are no current showings for Ben-Hur (1959) in this area.