WHBL Town to Town Tour
WHBL is going town to town to pay tribute to the great cities in our community. Each week we'll focus on a different city culminating with a live high school football broadcast.
Featured City of The Week is Sheboygan Falls
Sheboygan Falls strives to be proactive in planning for growth, while preserving its historic heritage for future generations in a friendly, safe, family environment. We offer residential, commercial and industrial growth that maintains a high quality of life for all. We value our downtown historic district promoting a mix of retail, office and service uses. A key asset will be a bike and pedestrian network connecting neighborhoods, schools, parks and commercial areas. Tourism will play an increasing role in our community's future, and we will continue to cooperate with neighboring towns, villages and Sheboygan County to achieve these objectives.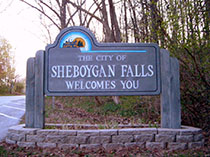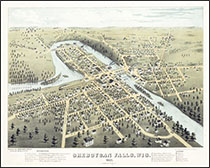 Top Five Interesting Facts about Sheboygan Falls
1. Sheboygan Falls was incorporated in 1913 so next year they will celebrate their 100 year anniversary.
2. The Mullet and Onion rivers join the Sheboygan river in town helping to set up the falls that gives the city its name.
3. Mayor Meyer's office was originally a street car depot for the street car that went from Sheboygan Falls to Plymouth.
4. Bemis Corporation is the largest employer and the 2nd largest private employer in Sheboygan County, next to Kohler Company.
5. Evans, a traditional old style "dime store" still exists in downtown Sheboygan Falls.
Falcons Overview
Week 3 of WHBL's town to town takes us to Sheboygan Falls as the Falcons take on the Campbellsport Cougars in Eastern Wisconsin Conference action. Falls enters the contest with a 1-1 overall record and an 0-1 conference record after losing their conference opener to Plymouth 31-7 last Friday night. The Falcons were never really in the game agains the Panthers, falling behind 31-0 before scoring a late touchdown on a 6 yard run by Sean McKinster to avoid the shutout. The loss followed an opening night non-conference win against Mayville, 25-12. The Falcons will be trying to rectify a two touchdown loss at the hands of Campbellsport last season. It was a low point for the Falcons, after which they ran off 4 consecutive wins to get into the WIAA state playoffs for the first time in 5 seasons.
Meanwhile, Campbellsport enters this Friday's matchup licking their wounds after a 56-14 thrashing at the hands of Two Rivers. It was the polar opposite the week prior when the Cougars took down Milwaukee Washington 32-6. James Hughes is both their receiving and rushing leader through two weeks. With theWIAA reducing total regular season games from 9 to 8 for this season, every matchup is even more critical. Kickoff is set for 7pm.
Town to Town Featured Cities
Live Play-By-Play Action on Town to Town Tour
8/24 - Howards Grove @ Kiel
8/31 - Kingsford @ Cedar Grove Belgium
9/7 - Campbellsport @ Sheboygan Falls
9/14 - Ozaukee @ Oostburg
9/21 - Oostburg @ Howards Grove
9/28 - Howards Grove @ Random Lake
10/5 - Kewaskum @ Plymouth
10/12- Sheboygan North vs Sheboygan South