WHBL Town to Town Tour
WHBL is going town to town to pay tribute to the great cities in our community. Each week we'll focus on a different city culminating with a live high school football broadcast.
Featured City of The Week is Random Lake
The Random Lake Area Chamber of Commerce website states at that the area was "established by hard-working, industrious people, and these communities reflect those same values today. We manage to live without stop lights, parking meters, billboards or strip-malls. No "fast-food" here, but this area is well known for "good-food", prepared with tender loving care and always served with a smile. There are many recreational oportunities - boating, swimming, water-skiing and fishing for trophy sized musky. We're an easy drive form Lake Michigan, The Kettle-Moraine State Forest, Harrington Beach State Park, a dozen challenging golf courses, and features like Road America and Wade House Historic Site."
According to Village Clerk, Judy Schluechtermann, here are some things you might not have known about Random Lake:
∗ The local newspaper is called The Sounder.
∗ There is a memorial plot celebrating local heroes from WW1 through Vietnam. It's the Hamm, Miller & Diedrich Legion.
∗ The oldest house in the village is maintained by the local Historical Society.
∗ The village population stays stable (1,610 in 2012) and they have not had a housing start in 6 years, other than a lake home tear down and rebuild.
∗ Times Printing is the largest employer.
Local events are:
∗ Lakeshore Productions puts on a summer musical production every year.
∗ Random Lake Fire Department Picnic
∗ Chamber of Commerce "Fall Family Fun Fest" in September
∗ A triathlon benefiting Washington County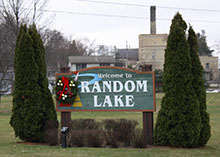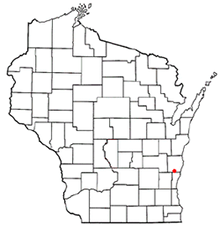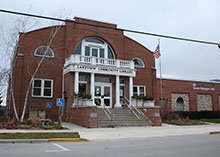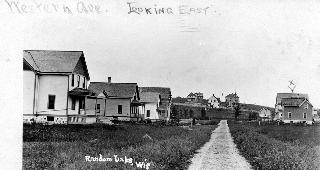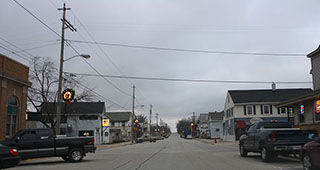 Top Five Interesting Facts about Random Lake
1. Random Lake was settled in 1848 and Incorporated in 1907.
2. The Railroad was surveying as they were laying tracks and came upon a "random lake"........thus the name.
3. Krier Foods is one of the bigger employers and made the popular soft drink brand called "Jolly Good".
4. Lakeside Foods is another large business. It is headquartered in Manitowoc and has a plant in Belgium.
5. Random Lake is well known for great Muskie fishing.
Town to Town Featured Cities
Live Play-By-Play Action on Town to Town Tour
8/24 - Howards Grove @ Kiel
8/31 - Kingsford @ Cedar Grove Belgium
9/7 - Campbellsport @ Sheboygan Falls
9/14 - Ozaukee @ Oostburg
9/21 - Oostburg @ Howards Grove
9/28 - Howards Grove @ Random Lake
10/5 - Kewaskum @ Plymouth
10/12- Sheboygan North vs Sheboygan South