WHBL Town to Town Tour
WHBL is going town to town to pay tribute to the great cities in our community. Each week we'll focus on a different city culminating with a live high school football broadcast.
Featured City of The Week is Oostburg
Oostburg.org describes this beautiful community this way, "Nestled between Interstate Highway 43 and Wisconsin Highway 32 in southeastern Sheboygan County lies the Village of Oostburg. Settled by Dutch immigrants in the 1840s, the Village of Oostburg still has many reminders of it's early settlers, including miniature windmills and tulips throughout the village and a Heritage Day celebration. A more permanent reminder of our heritage can be found in the many active churches, well kept homes, neat yards, clean streets and down-to-earth citizens."
Oostburgchamber.com adds, "Oostburg is community. Supporting the commerce and families that make up this community IS our business. A friendly, civic-minded community along the shores of Lake Michigan, where the common welfare is everyone's business, and it is a good place to do business."
Village President, Allen Wrubbel, and Village Administrator Jill Ludens tell WHBL that the vision for the village is to grow and prosper without losing the core values.
Oostburg is also very proud of their High School, and its athletic programs. Most of the businesses in the Village are locally owned, like Oostburg Lumber, Dutchland Plastics, Oostburg Concrete, Pre Heat, Piggly Wiggly, Daane Hardware and Judi's Restaurant. They have a "Civic Pride Group" that built the band shell in the park. Major events are Heritage Days and the Christmas Parade of Lights.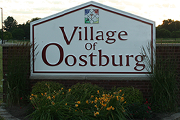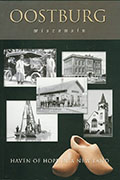 Top Five Interesting Facts about Oostburg
1. Oostburg is 103 years old, having been established as a village in 1909.
2. The Industrial park built 10 years ago is thriving and shows Oostburg is more than a "bedroom community".
3. Viking Masek, a global packaging machine manufacturer, just expanded their operation to 35,000 square feet in the Industrial Park.
4. The WWII memorial was recently built by a local Eagle Scout.
5. The 4th of July celebration is alcohol free and a true family event.
Town to Town Featured Cities
Live Play-By-Play Action on Town to Town Tour
8/24 - Howards Grove @ Kiel
8/31 - Kingsford @ Cedar Grove Belgium
9/7 - Campbellsport @ Sheboygan Falls
9/14 - Ozaukee @ Oostburg
9/21 - Oostburg @ Howards Grove
9/28 - Howards Grove @ Random Lake
10/5 - Kewaskum @ Plymouth
10/12- Sheboygan North vs Sheboygan South